... and I read it over and over again, how one horse leads to another...
...and it happened to me anyway. Just a few weeks ago, I GOT ANOTHER HORSE!
As you may recall, I'm a jouster (among other things). And my dear Pepper pony has told me many times over the years that she does not want to joust. She's ok with many things, but that one isn't her cup of tea. Here's Pepper being my cowboy horse for a parade - actually she's misbehaving terribly, pawing and wanting to GET GOING but it made the picture dramatic!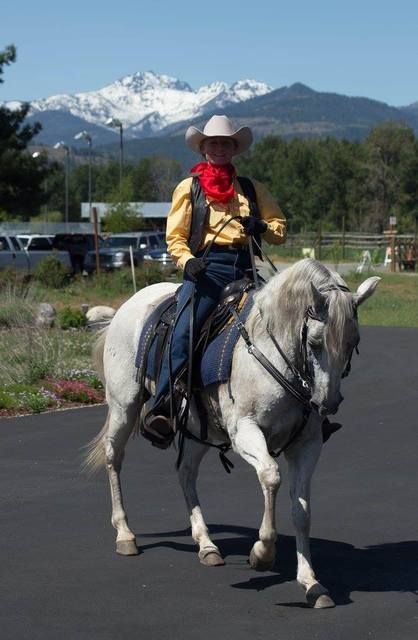 So, for the past few years I've been jousting on Bo. He belongs to a friend who does not joust and rarely rides anymore due to spine issues, but Bo LOVES to joust! He flattens his ears, bares his teeth at the opposing horse, and digs in and runs his heart out, then magically turns back into an in-your-pocket snugglebug who loves his skritches as soon as the show's over. Here's us this past summer, we're on the left in blue: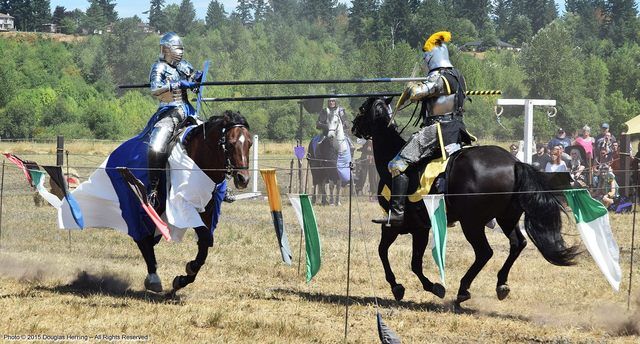 But Bo is 28 years old, and he's slowing down. He's got shoe pads for tender feet, regular massages and chiro for his back, and supplements for his sore hocks, but there comes a time when it's all just not enough. He still perks up when the costume is put on him, but he gets tired faster and wants to quit sooner. So, it's time for him to retire and help train newbies as their steady (but mean-looking!) opponent in practices, which are shorter and less intense than a full show.
So, I got a new horse. Meet Drina (Golondrina).
Drina is an Azteca, 15 hands high, 12 years old. She started out trained for Mexican dancing (her sire is a star performer at that), but has recently done rodeo drill team, some cow work, parades, even kid lessons, and miles and miles of trails. And she gets used to new stuff quickly. Here's a pic from when I went to try her out, showing her the noises a lance makes on a shield; I'm on her and my friend is on a mounting block holding the shield: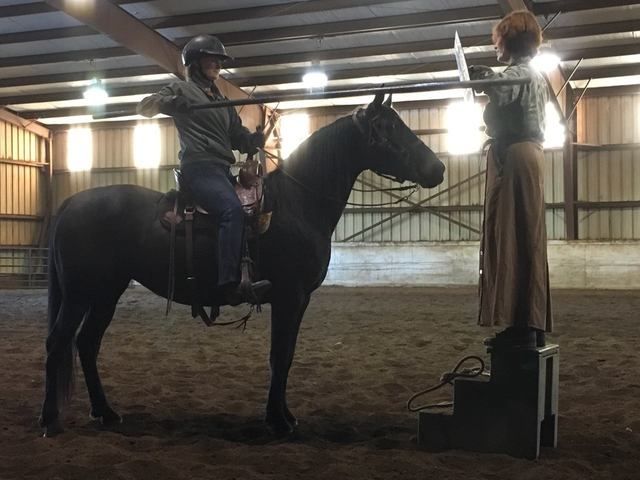 Ok, she spooked a little at first, but this is one minute later, and she's mainly curious and trying to sniff at the shield. That's when I knew I wanted to buy her.
So, this winter is a training winter, for me and for a small handful of new jousters who have just gotten their first horses -- should be fun!
'plash