I'm still working my way through all the pics I took! I finally finished Yellowstone and really tried to limit the pics I wanted to post. I wasn't very successful!
Yellowstone... What can be said that hasn't already been said a billion times? There is just so much to see that one could spend a month in the park and still not see it all. I wish we could have hiked some of the trails and gotten away from the crowds but with the pups along, we were really limited on what we could see. BUT..we saw a lot!
Of course, Old Faithful was a must see: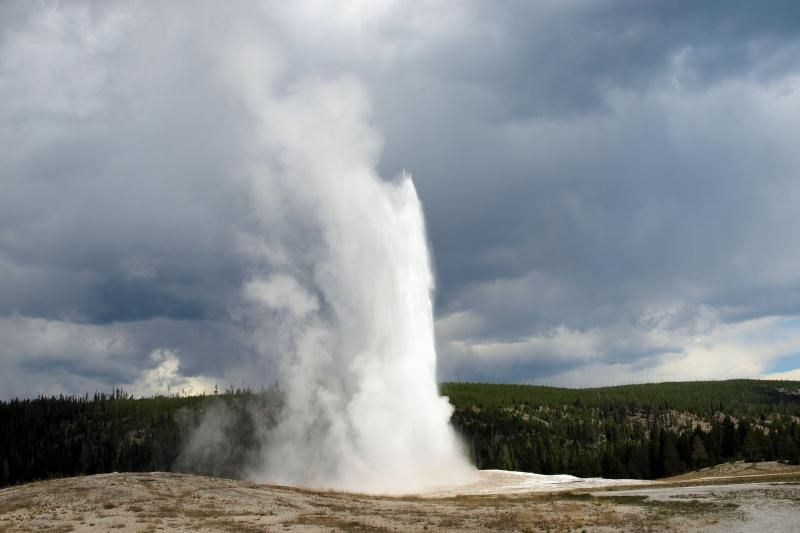 Many of the thermal features are located in the caldera which is the area formed by the supervolcano that blew some 640 thousand years ago. Knowing that there is still that much energy right under our feet was a bit unnerving! Experts say the magma is building again.... YIKES.
The geysers are impressive but there are other features that are really interesting. One area is called "Mud Volcano" and had several pools of mud that bubbles and steamed. There were a couple of hot springs there too. Once was called Dragon's Mouth: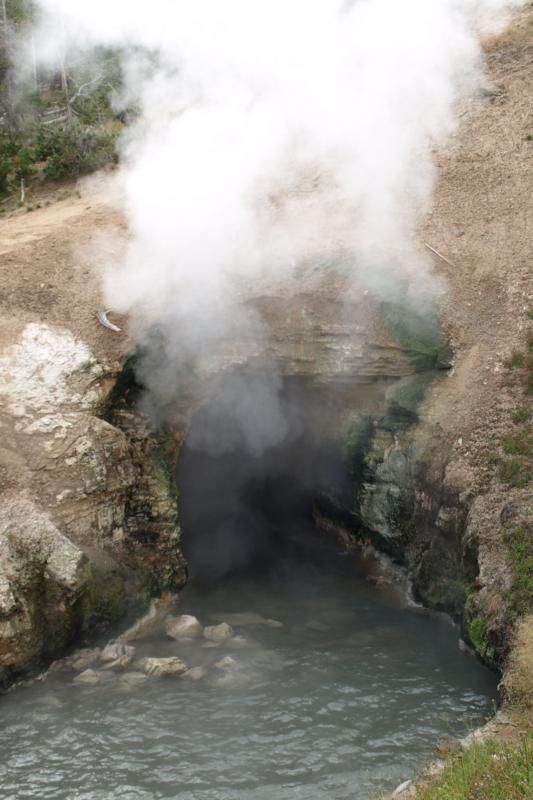 You could hear a rumbling in the rocks as the water surged out of the "mouth".
Yellowstone could be considered a "study in opposites". Just a short distance from the violence of boiling acidic water and mud is a peaceful group of swans enjoying a gorgeous day on the Yellowstone River: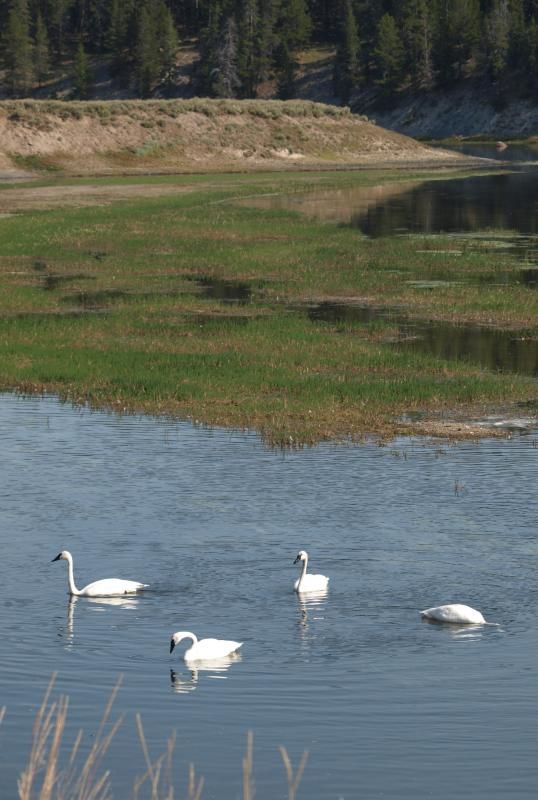 Yellowstone River feeds into and out of Yellowstone Lake and so far it has run unimpeded all 692 miles till it meets the Missouri. It's the last free flowing river in the lower 48 and there is a continuing battle to keep it that way as power companies and government agencies want to dam it. Others want to mine for gold along part of it. All some see are $$$ rather than the beauty of nature.
Just a few miles from calm waters where the swans were floating, it begins it's decent: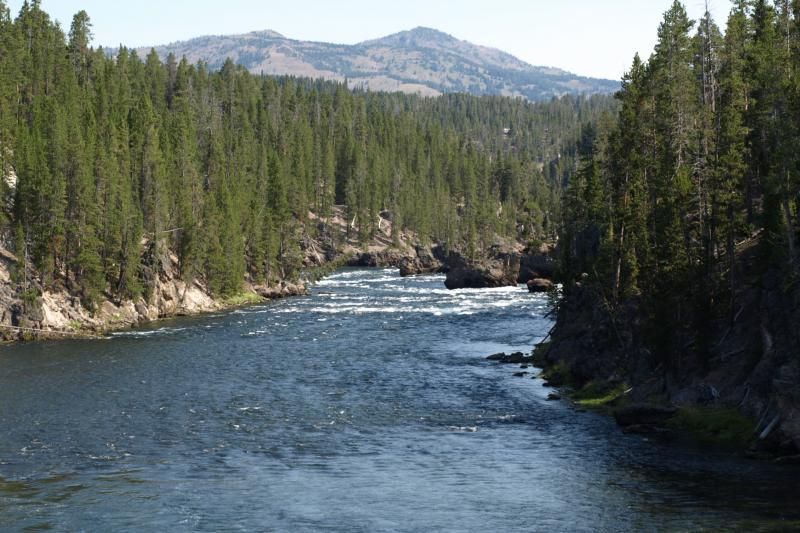 and then forms the "Lower Falls":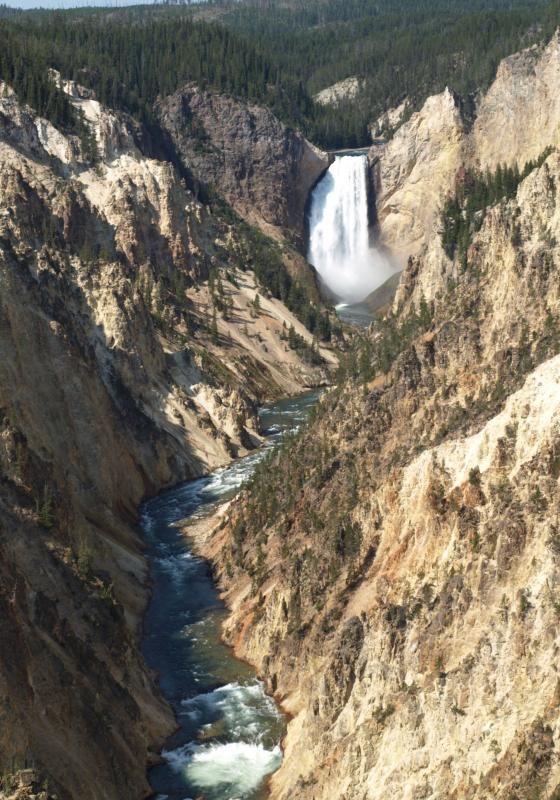 We drove a short way into the Lamar Valley and enjoyed some gorgeous views including: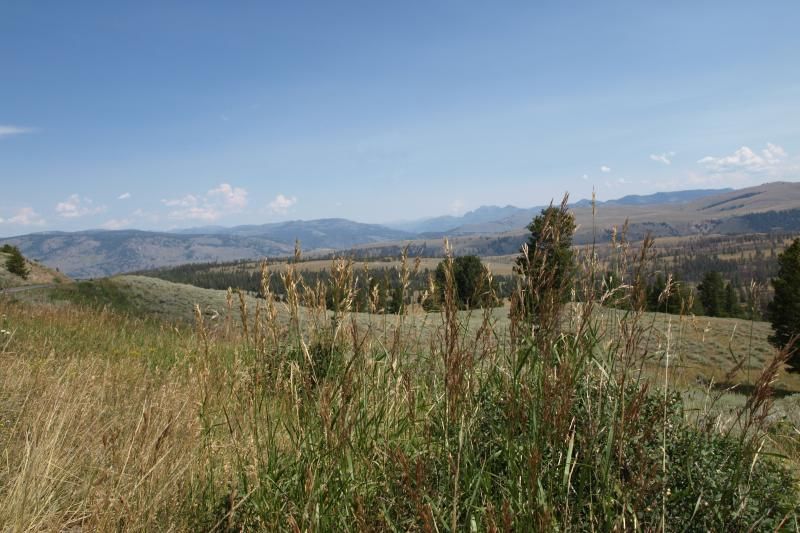 The Lamar Valley is supposed to have a lot of wildlife and I'll have to take their word for it! We did see a few antelope and this herd of buffalo: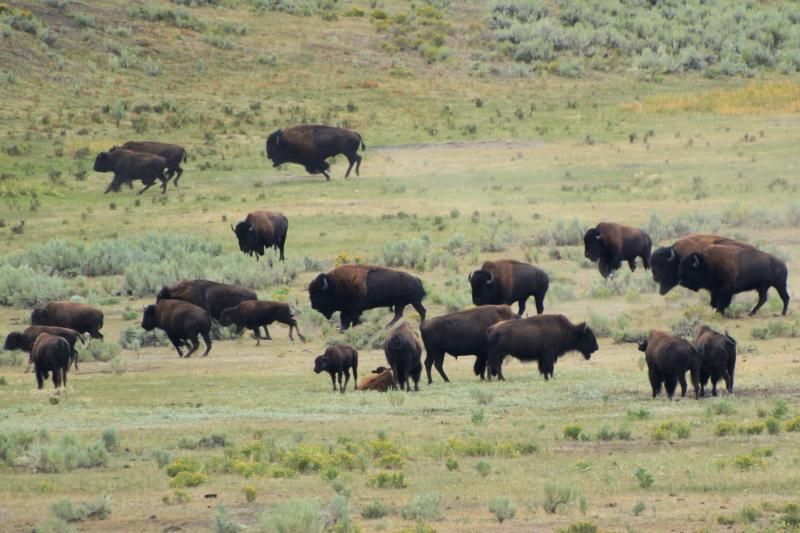 Some were running, others were just standing around. They didn't seem to have a plan so I guess they were just feeling good and playing their version of buffalo-ball.
We hadn't seen any nor heard about fires in the park but I noticed a dark column of smoke in the distance. This is zoomed in quite a bit: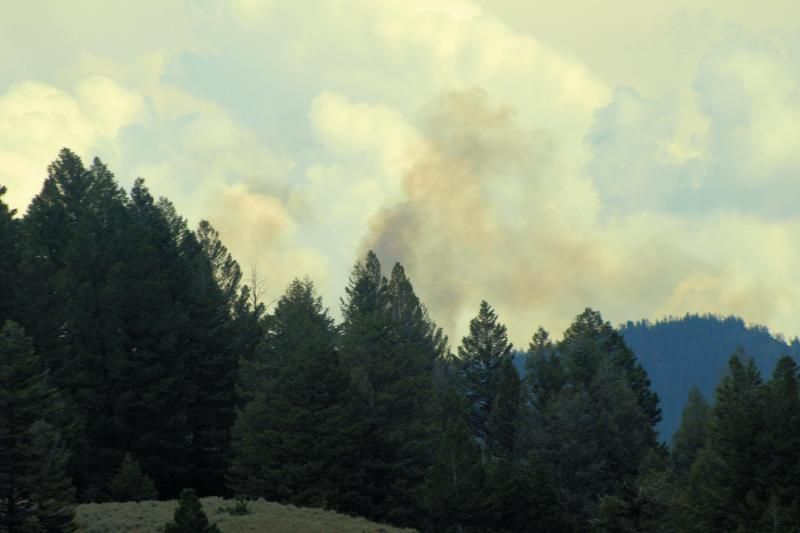 A few days later, we were driving the Beartooth Highway and were maybe 60-70 miles away and could definitely see the haze from smoke. I don't know if we were seeing smoke from that particular fire or not.
Here's another pic of the scenery:
One of the features at Mammoth Hot Springs: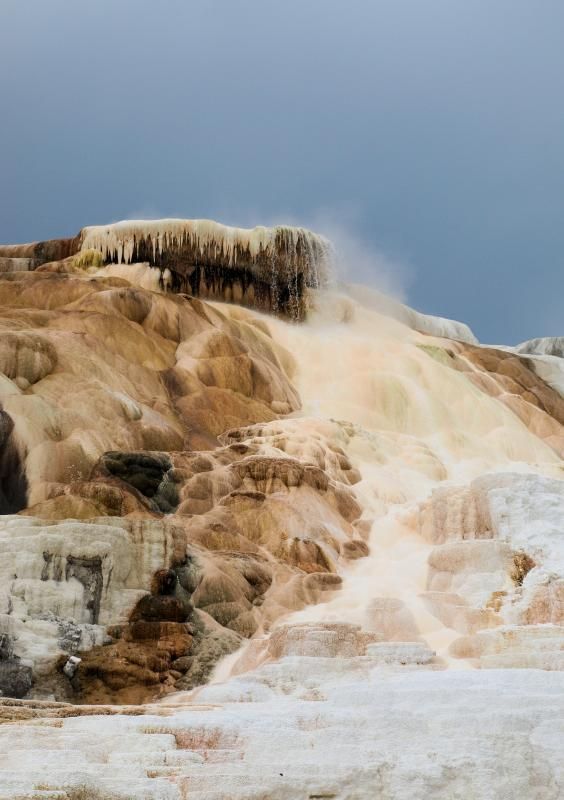 Visitors are required to stay on the board walk or paved path but these guys didn't read the rules: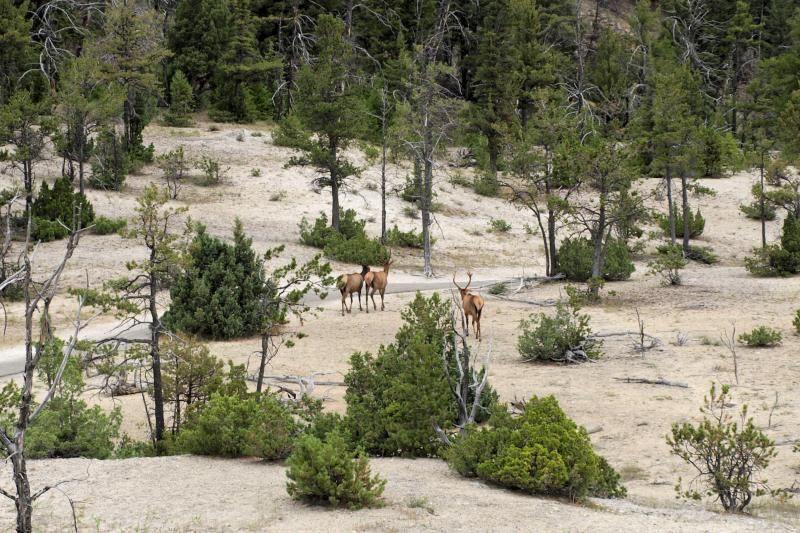 Yellowstone was really crowded. Between the cars, RVs and those huge tour buses all of the major and most of the not so well known features were packed. Most of the tour buses were packed with Chinese. The majority of rental RVs had either German or Asian occupants. One could hear all sorts of languages and lots of times it seemed like those that spoke English were in the minority!
Yellowstone is known for it's jams too. There are several different "flavors" and you never know what kind you'll find. We encountered Elk Jams, Deer Jams, Swan Jams and we heard about Bear Jam but we never saw one. BUT...we got to experience a lot of Buffalo Jams! One of the more entertaining buffalo jams was this one: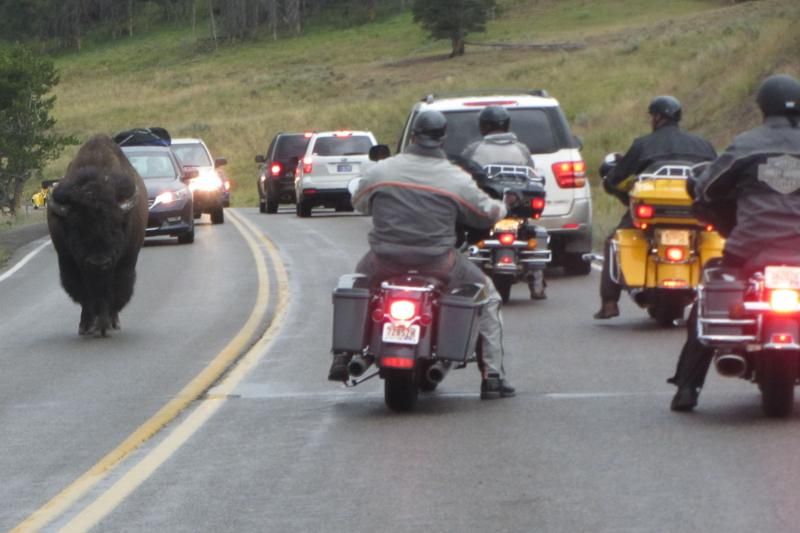 We were in this jam a long time as this guy strolled along. The guys on the bikes were sweating it but he stayed in his lane and just kept walking. There were several others in the road and it was obvious who had the right of way.
It sure was tough leaving this amazing place and for as much as we saw, there's 10 times more that we didn't see. I guess we'll have to make a return trip!
On our way out of the east side, we stopped at a pull out to soak up a bit more and found we had company! We shared our last stop in Yellowstone with what we think are Yellow Belly Marmots. There were two lounging on the big boulder and while they kept an eye on us, they didn't seem all that worried we were there. They had quite the view! Here is one of them: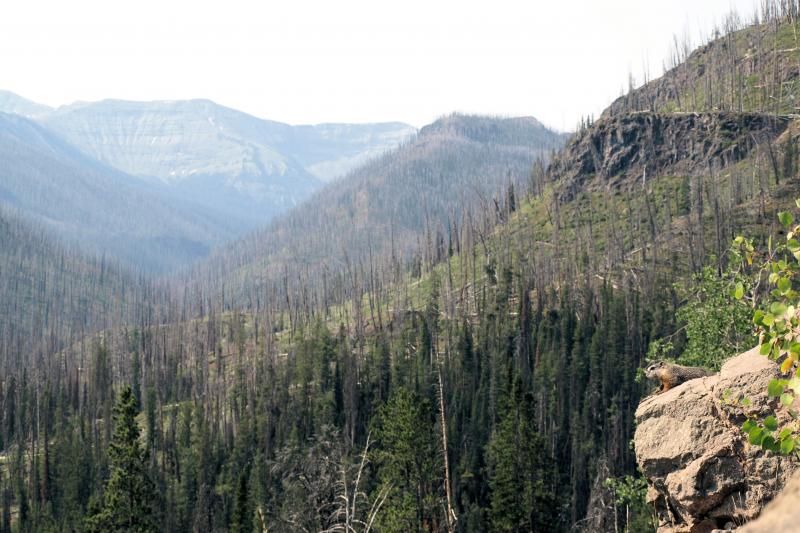 Cody & Gypsy loved Yellowstone too!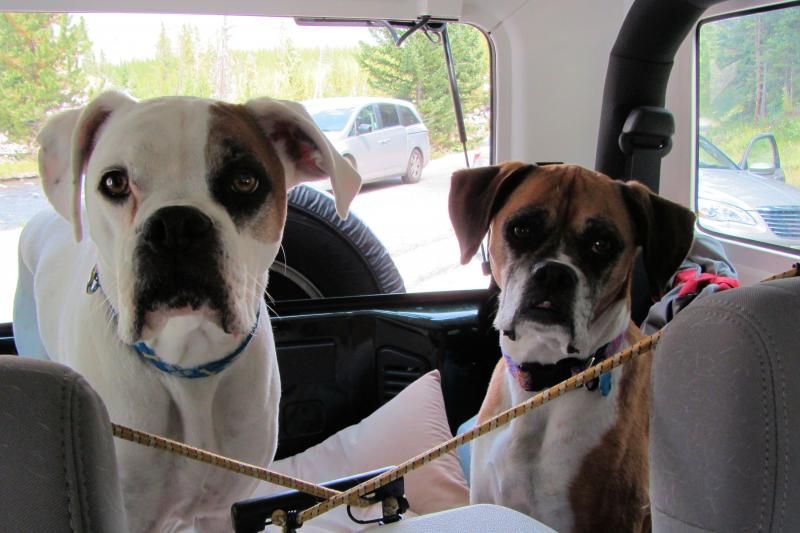 Sort of off topic but I'm reading a C.J.Box novel set in Yellowstone. In the part of the book I'm reading now, the setting is in Mammoth Hot Springs! I keep telling them main character that I've been there!
[

]