Hello to all. It's been a while since I've posted – a few months, at least, and I wanted to provide a brief update on Sadie's transition as well as introduce my new horse and tell his story.
Sadie was hauled Mother's Day weekend from my daughter's near Oklahoma City to her new owners' Nebraska ranch where she has joined their broodmare herd. They love her pedigree, think she is put together well, and if she throws nice minded, athletic and cowy foals – that's where she'll be for many years. Not the way I wanted things to go when I got her, but when all things were considered its the best possible outcome for her.
My new ride, Mikey (Poco Double Pine), 14 yo, 14.0 hh, bay foundation quarter horse was purchased 2 ½ years ago to hopefully save, rehab and resale. Mikey is gentle, patient, and broke, and very well-trained. I rode him the first time two summers ago for a few laps of the arena. As soon as I picked up the reins, I could feel a change in his body's demeanor. He was immediately attentive, waiting for a cue, and remained that "tuned in" until I got off. There's an amazingly different feel to a trained horse that really wants to please. And, saying this probably means something slightly different to everyone, but "anyone can ride this horse".
(A friend's six year old, a non-rider, and Mikey last summer.)
At his previous home, Mikey had been the lowest ranked out of seven horses for a five year period and he ate last when or if any hay was provided. None of the horses were in good shape, but he was pretty bad. The winter day my daughter and son-in-law brought him home, Mikey was pretty much a 0 on the fitness scale with a prominent skeletal structure showing through his winter coat. They didn't expect him to live, and thought he was so far depleted that eating grass hay might kill him. At the time, the vet estimated his heart to be 1/3 normal size due to the length of his starvation diet.
(Day four. He'd gained considerable water weight by then.)
Mikey was started on several handfuls of grass hay, several times daily (when healthier, free choice bermuda and an occasional flake of alfalfa) and Dynamite nutritional products. During his first year at my daughter's place, Mikey consumed approximately fifty pounds of the free choice loose mineral supplement, 2 to 1 (calcium to phosphorous), in addition to however much of the three other free choice loose supplements he wanted. He was also put on the multi-vitamin, joint supplement, probiotics, and 60 days of clay. He was loaded/bloated with parasites, but a wormer would have caused too much harm in the beginning.
At first, he was housed in the barn and blanketed as he was too emaciated to regulate body temperature. After gaining enough weight to withstand mild winter days, he was placed in a pen (along with the number sixth horse in the pecking order, a mare, from his former home) to eat for a few months during the day and up at night (weather permitting). After three months, the mare went to Oregon "in trade" for Sadie and Mikey graduated to lawn duty to provide him with more exercise, and then, most of the time in with the young colts. Mikey was the high ranked horse for a change, but he wasn't mean as he played and rough housed with them.
(In his feeding pen.)
(Mikey on lawn duty last summer and on his way to check out what's happening at the barn.)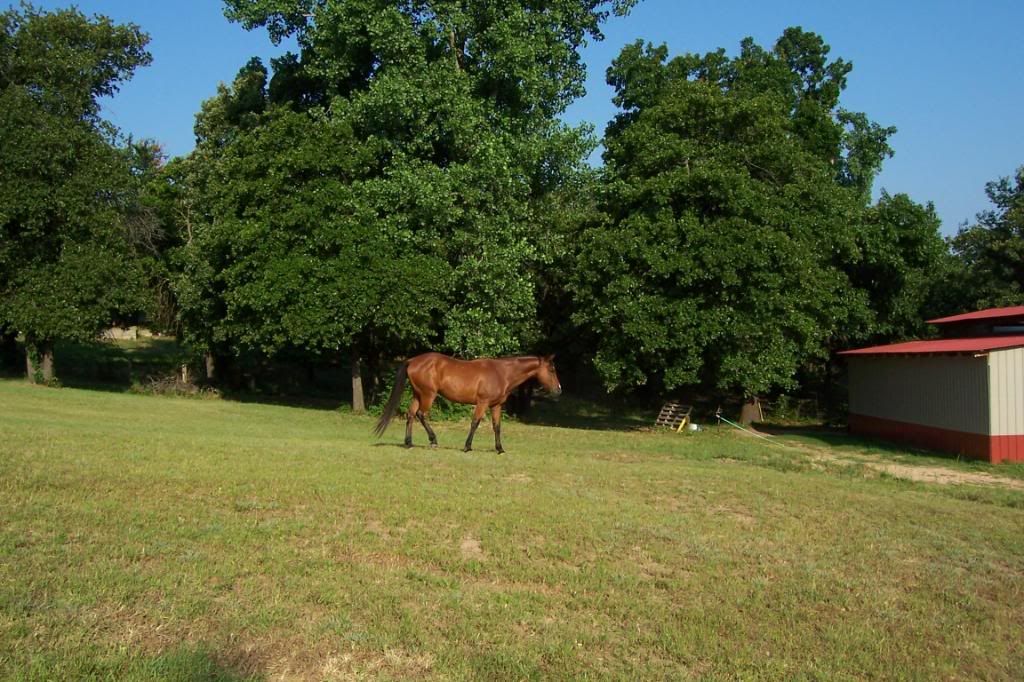 He has gained a lot of muscle definition during the last year, his heart has increased in size, and he should be sound come next spring so that he is ready for the kind of riding I will do – some trail classes and maybe pleasure. This year his steadily improving health is also showing in the dapples that have appeared on his coat.
(One week ago.)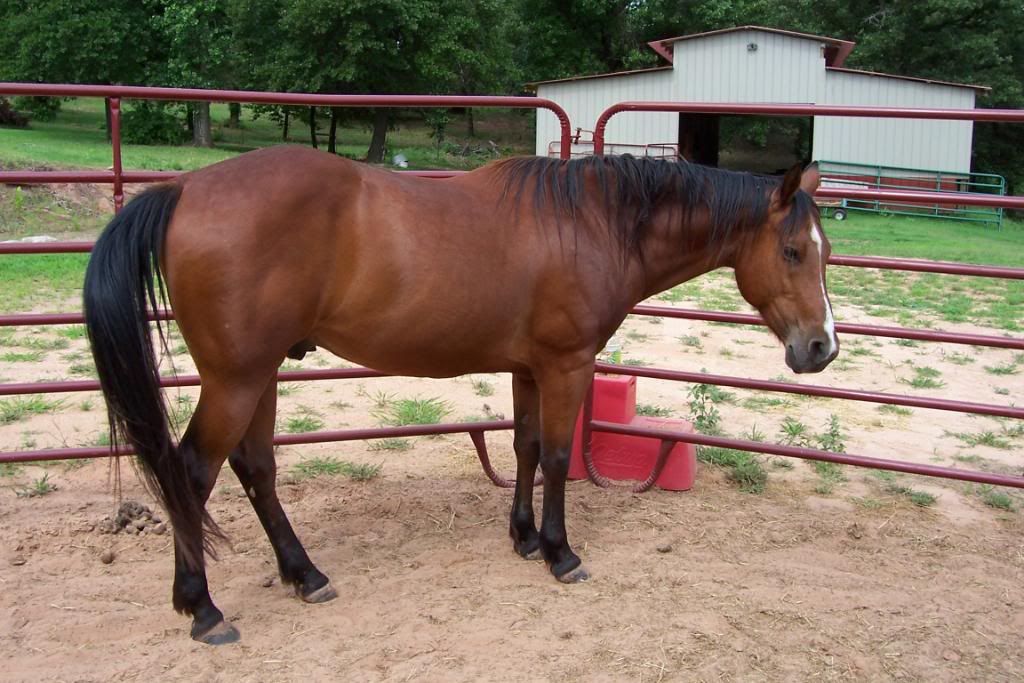 Mikey had other issues to correct: a shoulder out of place that needed routine chiropractic care until the muscle tone returned to hold it in place, then a bout with thrush. And, most recently during his play with the now two and three year olds he tore a shoulder muscle and strained or tore the inferior check ligament in the front left. It wasn't until the shoulder muscle healed completely, and he kept coming up lame for a few days every two to three weeks that prompted a trip to the vet for x-rays. We weren't sure if the problem was in his foot as a separated hoof wall or something in the leg…when the ligament damage was discovered. The treatment for a strain or tear of the ligament is the same: reduced activity as it heals over 6 to 12 months and then Mikey will be fine. We're happy he feels like playing as a 14 year old, but he doesn't know when to restrain himself! lol
I had planned to take him back to my home in Illinois this summer, but he is better off with my daughter's vet that we know to be good with legs than to chance hauling him before he fully recovers. I get a chance to completely finish the pasture fence and do more repairs in the barn over the next year! In the meantime, I consider myself very fortunate to have Mikey as my new ride. Thanks for letting me share!
(Upset I stopped brushing to take photos.)