I mentioned in another post that Bud has a thrush infection in his toe. Some might remember that he had a couple of cracks in his left front. Here is a pic prior to me getting him and having his hooves trimmed: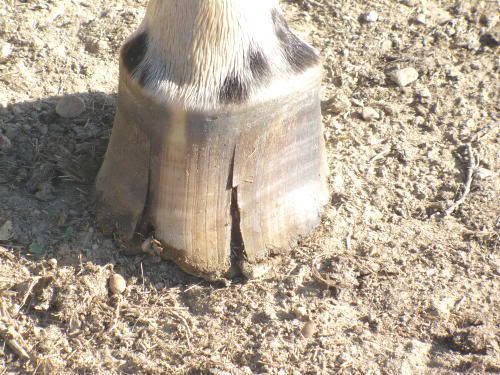 It's the crack on the left that has the thrush in it. Jeremy discovered it when Bud was shod last Friday and he cleaned it out then I squirted Thrush Buster in it.
I was going to ride him today so saddled up and walked around in the lot. When I asked for a trot he was noticably lame on that foot but he shows slight off & on lameness a LOT. Nothing really bad, no swelling or heat and many times, I'm probably the only one that would notice. I don't know if today's issue is related to the thrush or not but there's nothing else that I can see that would cause it.
Here's a pic from my cell after I scrubbed it with iodine shampoo and treated it again with Thrush Buster: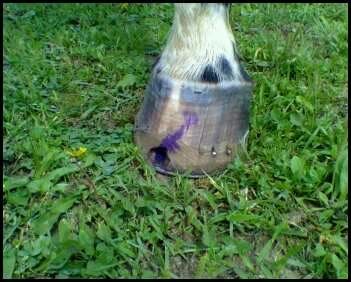 Until Jeremy pared the chunk out of the hoof, there was not a hole or any indication of an infection. I really worked a brush into it and got a lot of black yuck out of it along with mud and grass. We've had a wet spring and there is rain forecasted for today and the rest of the week. [

]
I thought about wrapping it but then any moisture would be trapped inside which wouldn't be good. As it is, I know he'll get mud and water and who knows what else in it. I could put him in a stall but then he'd get pee and manure in it so I guess I'll just clean it everyday and hope to get a couple of hours of drying before the next rain. [
]
Does anyone have any other suggestions? The thrush pocket extends UP under the hoof wall at least 1/2 inch. [

]