I finally got a chance to use the Troxel cowboy hat helmet that I ordered from Chuck last fall. Partly, I needed someone else along to take pictures so that you all could see what it looks like. Also partly, it needed some extra padding and I finally got around to arranging that. The helmet that they put inside the cowboy hat is pretty hard stiff foam with very little padding at all, and it had a fairly flat spot at the top of the head -- whereas I, apparently, have a pointier head. With a few pieces trimmed from a new thin saddle pad (it was too long when I bought it, and I kept the trimmed-off bits "just in case"), the top was much more comfy.
The helmet comes with a note from Troxel pointing out that fitting a full certified safety helmet inside a normal-size cowboy hat is impossible, and therefore this cowboy-hat-helmet will look very large; they also state that it often doesn't look nearly as out-of-proportion when you're mounted on a horse. So we took pictures both ways so that you can judge that for yourselves.
First, on the ground: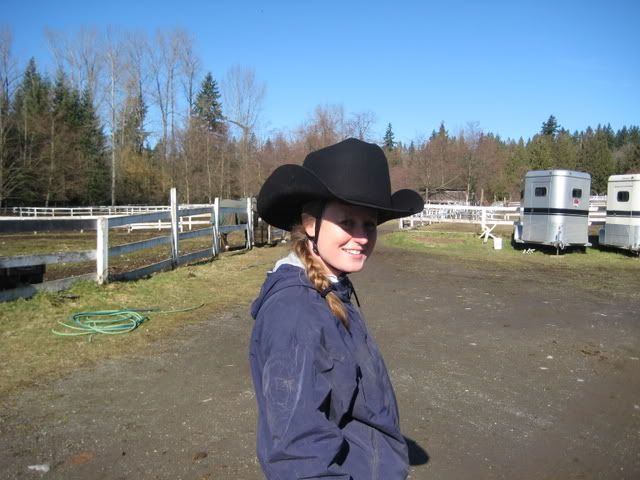 From the side isn't nearly as bulky-looking as from the front:
Then on horseback: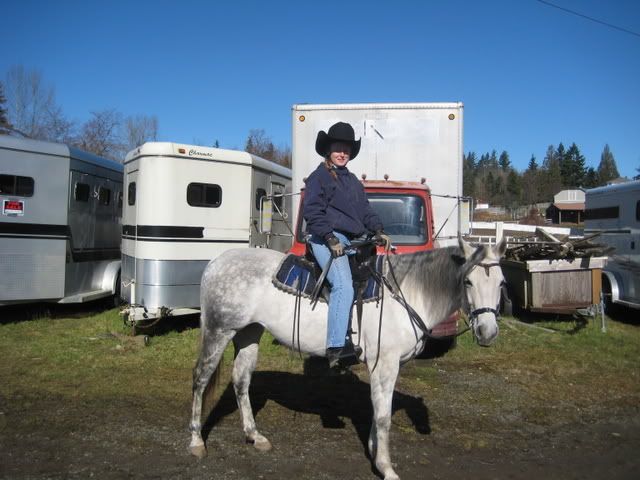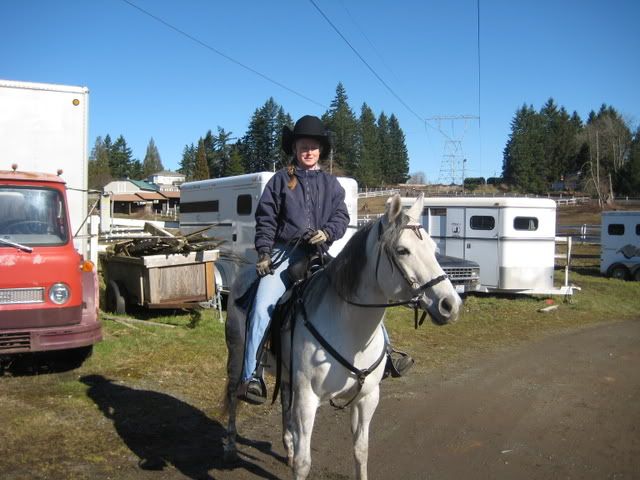 So, my opinions:
PROS
- has a brim to keep sun out of your eyes (didn't get to test with rain, yay)
- thanks to chin strap, it stays on your head if you happen to decide to gallop
- keeps head very warm since it is black in color and has no vents
CONS
- looks (a bit!) dorky. On the other hand, when I called back to my riding buddy to joke "does this helmet make my butt look big?", he said it makes it look positively miniscule. Benefit? Hmmm.
- shape of helmet might not fit all heads, better with extra after-market padding added
- straps not quite as adjustable as on other helmet models
Your humble product reviewer,
'plash