This has been a team effort by Mr. Hook, Mtn Rider, Stormie and myself. Stormie did all the art work involved in drawing the bones on the pictures of the horses.
This is a picture of a horses skeleton. Notice the shoulder and rib configuration.
This picture shows the shoulder bone or scapula of a horse.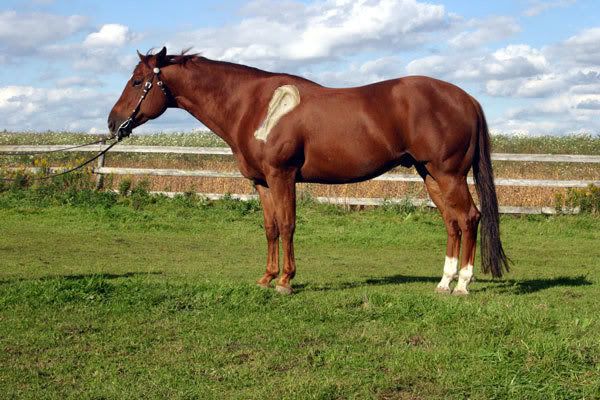 This picture shows a saddle tree, sitting in the correct position on the horses back. Note it is sitting, back behind the shoulder bone so the horse has free movement of his shoulders. It is also sitting level on his back.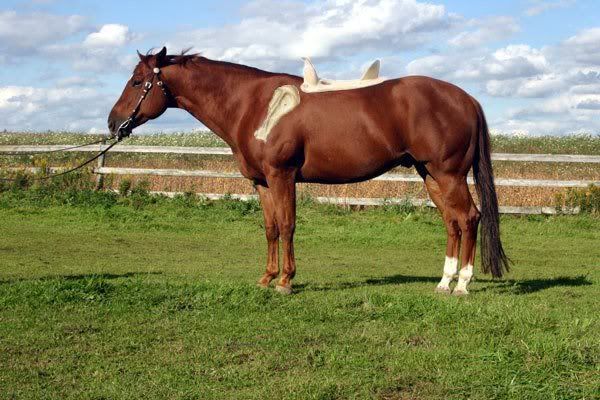 This picture shows a saddle placed properly on the horse. Note the position of the scapula bone and the corner of the saddle tree. It doesn't matter the horses conformation, the saddle is always placed behind the shoulder bone.
HOW TO FIND IF A SADDLE FITS A HORSE.
Download the templates from the Saddle Shop.
Transfer the templates onto a piece of cardboard.
Find the scapula and measure back 2 inches.
Mark that area on both sides your horse, with a piece of tape or chalk.
Place the template over your horse from one mark to the other.
The template that fits best, is the one that touches in all areas.
To check a saddle, hold template up to the front of your saddle where the conchos are, or use the cut-out piece.
Call Chuck and give him the template number and he can tell which saddles he has that will fit.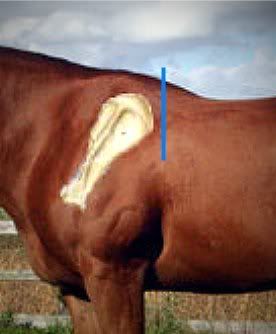 These pictures are copy righted and are the exclusive property of The Saddle Shop,Stormie and Mrs Hook, and can not be reproduced without written permission.