Here are the two best photos I could get the other day, none of them were very good. Cloud is turning 19, registered APHA. All I know about her breeding is what's on her registration.
Foaled in Florida
Sorrel / Tobiano/Overo
(?? I thought it was one or the other)
Sire: The Cowboy JC 7,721,693
Dam: Cloudy Counce, 41,671
Sire's Sire: Jetalong T.B.
Dam's Sire: Cherokee Levan 24,775
DOB: 4/23/87
That's it. Her breeder, who I actually spoke with when trying to trace down the owner before the guy I bought Cloud from, was a doctor who'd had Cloud's mother and wanted a foal out of her. He bred her with a TB, and voila, "On Cloud Nine."
"Hurt Feelings" Preface:
Cloud does not have to win a beauty contest. When I bought her, I didn't so much as look at her feet, that's how much I knew. (And it's about how much I still know.) If she has any reasonable conformation at all, then I got lucky, pure and simple. If she doesn't, then I didn't buy her with any representations that she did. I'm just curious how she ranges within the conformation scope. I would say she's very out of condition. I haven't ridden her much and I don't think she was ridden much by her prior owner, so I don't know if that's something one needs to "see through" or not. Otherwise, any faults she has would possibly explain her gaits and traits, or tell me other info that could be helpful. So candid evaluations are requested and welcomed!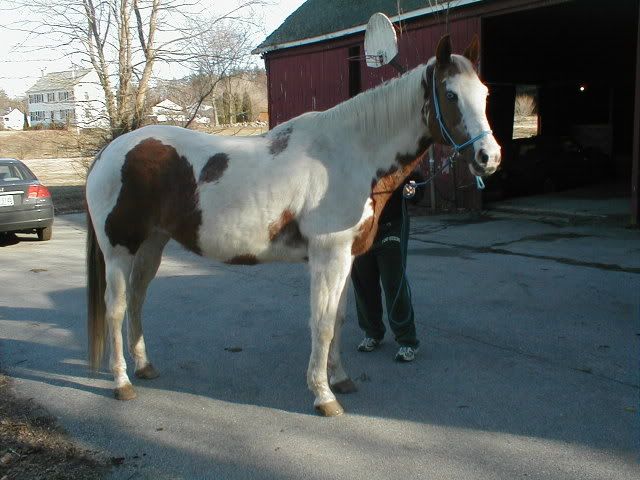 On this photo, that is not a 5th leg under her forelegs, it's a shadow on the ground beyond her, LOL!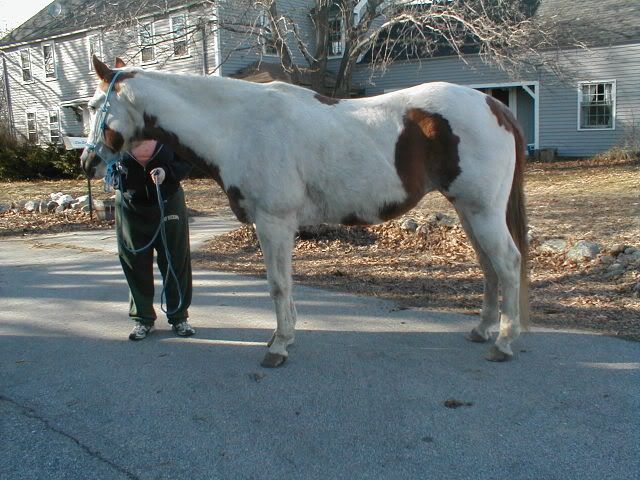 Observations?