---
- fracturedbones - 05-14-2014

Left work at 3pm, fires started up at noon, crazy wind gusts, my younger sister in Santa Luz evacuated (cops knocking at her door before the 911 call even came) , burning towards my other sister close to me on alert, I am 4 miles away, only 5% contained. Yikes!!


Trailor hooked up and loaded, ready to boogie with the horses if needed, hope Jake cooperates[:O].....It was 97 at 4pm (and 85 at 0900) couple of my neighbors have hauled out already.

This is crazy weather...usually see this in Oct with the Santa Ana's (dry east winds). NO rain this year at all......saying prayers we don't have to leave but at least we are ready. Traffic going home was ridiculous, glad I left when I did.


---
- PaintGal - 05-14-2014

How scary for you! Do you have a place to go if you have to evacuate? I will keep all of you in my thoughts. Please keep us updated.


---
- Red Hawk - 05-14-2014

What PG said... Ditto from me.



---
- Colleen - 05-14-2014

Thoughts are with you and yours, so scary.


---
- Hook - 05-14-2014

Stay Safe. Hoping the fire gets contained.



---
- fracturedbones - 05-14-2014

So far so good, think they have 25% containment but not out of the woods yet. My younger sister was allowed back home.

I'm going in to work with one eye on the news. My family has a telephone tree for warning. Today is supposed to be hotter and big winds again, the winds are a huge problem; blowing embers a mile away, it is how the fire jumped the freeway yesterday. There are small fires all over the county. Have all my stuff ready to run, but getting home from work is an issue. The back roads I take are shut down because of the fires, so stuck with freeway traffic. It's 8:15, about 85 and gusty already. Friday it starts cooling down.

There are lots of canyons and open space and plenty of dry brush=fuel where they fires are still smoldering, keeps you on edge. They expect more fires today but firefighters dug trenches and firebreaks last night.

Thank God for our fire fighters!!! They have done such an awesome job, working all night to boot! Not one structure has burned, no loss of life thanks to them. What a scarey job!

Not that I would want my house to burn, but my big concern is the animals and getting them out in time. My dtr. is home most of the day and on watch.

Thanks for all your kind thoughts and prayers. [}

] I pray for the firefighters safety!!


---
- Arenadirt - 05-14-2014

Scary stuff, FB. Looks like the Santa Anas are going to stay for while, if NWS can be believed. Hope you don't have to get out!

+1 on the wildland fire guys/gals - always amazing.


---
- fracturedbones - 05-15-2014

Came home around 1pm, multiple fires, just everywhere around me....but each one is about 6 miles away. LEGOLAND evacuated...poor folks vacationing, what a bummer.

I have never seen so many fires at once. They don't know or aren't saying how they started. Pretty suspicious in my book. Just seems too many to be a coincidence even with this weather.[}

]

Fires north of me at Pendleton, Fallbrook, Bonsall, east of me Escondido, North east (and close) San Marcos (in pics below), Carlsbad to the northwest.....now breaking out again where they were yesterday and in the East county.

It is 100 out today and gusty winds still, but better than this AM.

Sitting, waiting and taking pics, will decide before dark if need to go or not.

Photo north, by Cal State San Marcos about an hour ago:




Fire around LEGOLAND to the northwest around noon: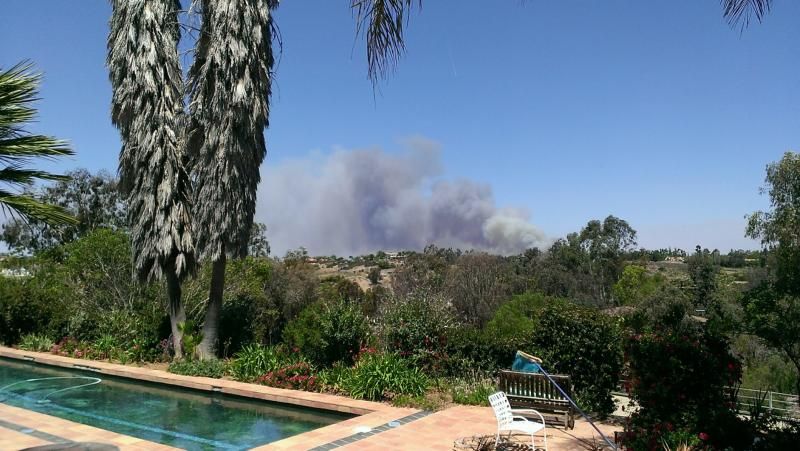 Bottom of my road around 1pm looking west: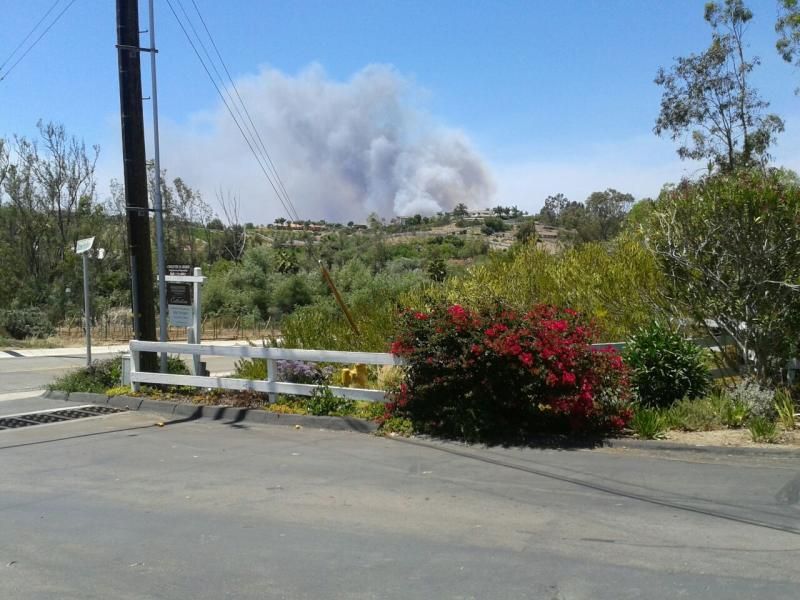 the horses can't figure out why I won't let them out!!! They seem to know something is up, can hear the ones up the road caling here and there.

Fire captain just came up the road, gonna check it out. I'll be glad when this is all over.


---
- Hook - 05-15-2014

Scary stuff for sure. It's good you are prepared if the worst does happens. Here's hoping the fires stay well away from you and yours and well... from everybody.

I think a few extra cold beers are in order for those fire fighters when the jobs done.



---
- PaintGal - 05-15-2014

Holy Cow!! I hope the fires are contained and put out soon. We're getting a little bit of the fire news on national TV & TWC but hearing from you really puts it in perspective. Thank heavens for the brave men & women that fight the fires. May they stay safe and be successful!

Keep us posted.


---