---
- Red Hawk - 07-16-2012

It took me, I think, seven years, but as of June 10, 2012 I earned my 500 hours chevron in FAHR's (Foundation Appaloosa Horse Registry) saddle log program.

Wow. 500 hours. Makes me sit back a take stock of what it took to reach this point... and that I reached it all on one horse: Miami's Topatchy Terra, FAHR #186.

Terra and I traveled a lot of miles to reach 500 hours on some of the most beautiful trails in Indiana, and Terra is possibly the best trail horse I've ever swung a leg over. I still remember seeing her for the first time at Wolf Run Appaloosas as a four week old filly. Tom, Wolf Run's owner, wanted to show me a colt born that morning when I blurted, "Where did you get that one?" and pointed at the chocolate brown filly with the lacy hip blanket. She occupied my thoughts constantly and came home with me at ten months of age. Hard to believe she's now 14 years old.

Over all those hours I've trusted Terra to keep me safe on trails where one wrong step could've ended in disaster. We traveled up and down huge hills with dangerous drop-offs, along the edge of steep ravines and high bluffs, through impressive forests, and meadows filled with wild flowers. We've wound around beautiful rock formations and enjoyed watching spring rains roar over waterfalls to plunge down the gorge.

White tailed deer surprised us when they stopped to stare at us; some even accompanying us before bounding away. Wild turkeys and Canada geese crossed our paths, and an occasional red tailed hawk would fly through or over the trees in wondrous flight.

Here's a pic taken in the spring of Terra and me at the top of the twin falls of Salamonie State Forest that's about a half hour drive from my home in northeastern IN and exemplifies some of the places I've ridden and hope to continue riding for many years to come: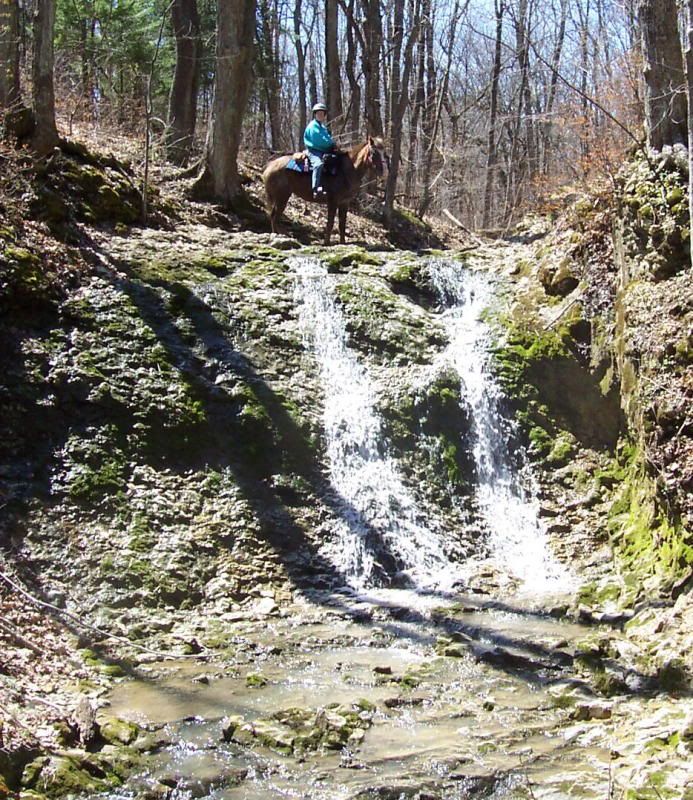 ---
- BethAnn - 07-19-2012

Congratulations!



---
- Hook - 07-19-2012

Good Work RH.

You and Terra make a good team for sure!


---
- killybean907 - 07-20-2012

Congratulations RH! [clap]


---
- EZ2SPOT - 07-21-2012

It sure does seem to be taking us a long time to get those hours! Congrats on your first 500, RH! Killybean, I know you have done more than that in just one year; how on earth do you do it???

EZ2SPOT


---
- Red Hawk - 07-21-2012


I'll agree with that, Hook, as shown here in a shot you took of Terra and me... and is still one of my favorite pics of the two of us: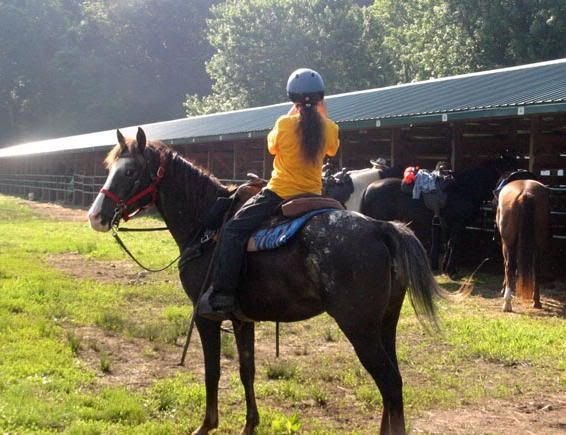 Thanks everyone for the congrats, and like EZ said; it takes time to get those hours. I know I average around 70 hours a year... more or less [

]. I'm with EZ too if what she said about you, Killy, averaging 500 hours in one year is true [:O]! That's mind boggling! What's your secret [

]?


---
- PaintGal - 07-22-2012

Congrats to Terra for hauling your butt around for all those hours! [
]

That is quite an accomplishment for both of you. WTG, RH!


---
- Red Hawk - 07-23-2012

Aw come on, PG. My butt's not that big [

].

Thanks for the congrats, and I hope to see you back on the trails sometime. I miss riding with you... and Beth too.


---
- BethAnn - 07-25-2012

If I ever get enough time to ride more than once a week, I might be able to ride more than 2 hours with my out of shape nag. She is so fat and just not like the appys and arabs who seem always ready to go. She is a good horse though so am planning on making some time to ride more.


---
- EZ2SPOT - 07-25-2012

It is hard finding the time to ride, and this heat is not helping!

EZ2SPOT


---