---
- Red Hawk - 06-28-2012

I didn't get very many pics, but here's what I got. Since there was only EZ, Dealers Scooter & her friend Durt, and me. The ride wasn't much different from the dozens of times we've been to Midwest Trail Ride. One of the differences was EZ brought Butterbrickle along instead of Warsong this time. And here she is at the Hickory Ridge horse camp hitch rail: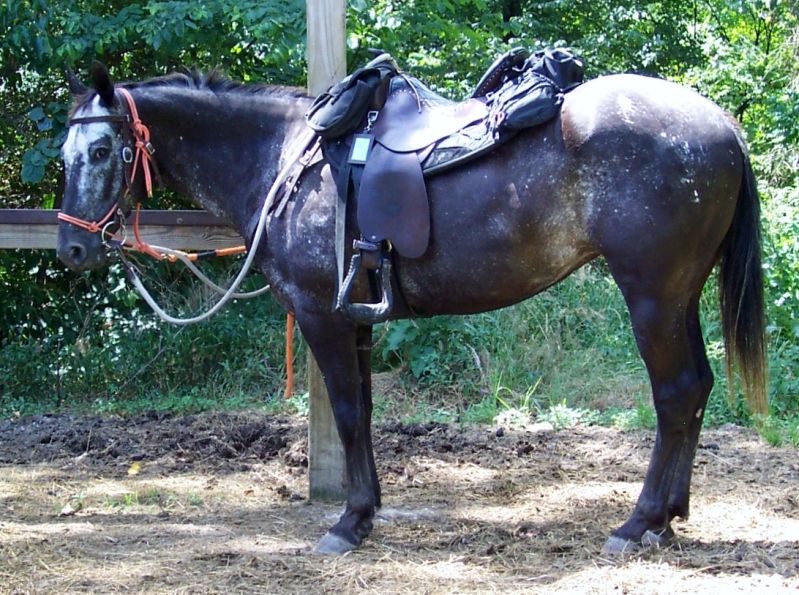 We stopped for a final break on our all day ride on Saturday at the Hickory Grove Church when these guys pulled into the parking lot. They were from MTR too: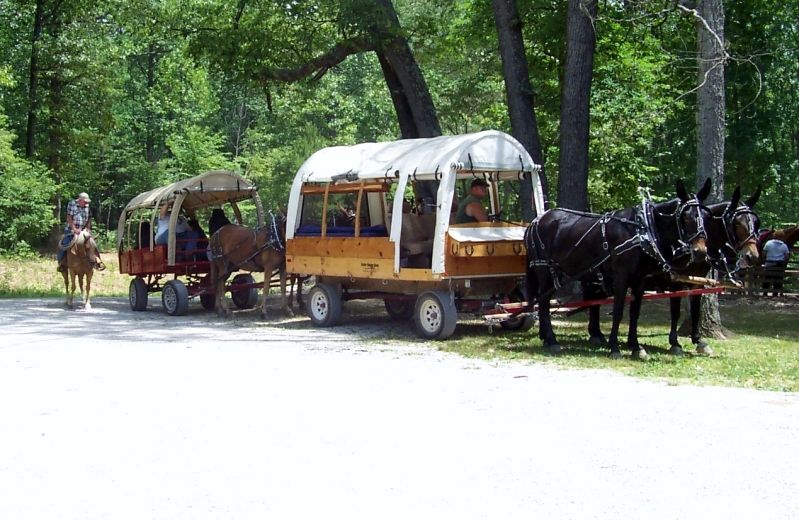 And here's a shot of Dealers Scooter after she and Durt got back from their Saturday ride: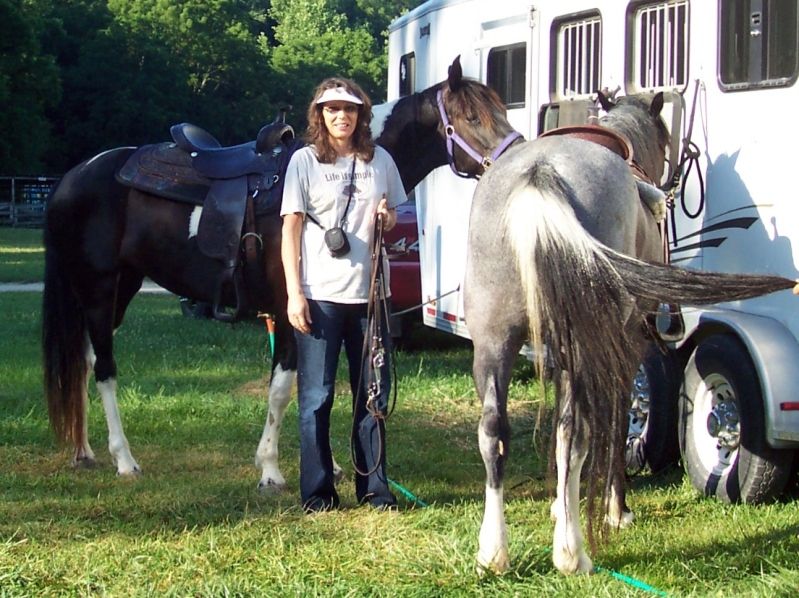 Sorry I didn't get more pics, but these few I think were worth it. We need more DE members to make things more interesting. Well... maybe next year.


---
- madison - 06-28-2012

It looks like a lot of fun. Love to do that sometime! We have trail rides here in pa in cooks forest, daughters take their horses with hubby but who knows maybe next year!!


---
- Mrs Hook - 06-28-2012

Wow, has Butterbrickle ever matured since I first saw pictures of her. Really nice looking mare EZ.

Its too bad our plans didn't work out to be there - maybe next year.


---
- EZ2SPOT - 06-30-2012

Thanks, Mrs. Hook! She is a good trail horse; a lot more quiet than Warsong. She IS a very fast walker, though. If you ever come down here and don't want to bring your own horses, you are welcome to ride her.

EZ2SPOT


---
- tagnrocky - 07-10-2012

Awwwww, I'm sorry to hear that there wasn't a bigger turnout. Maybe next year I can make it. Looks like fun though. Was it hot?



---
- Red Hawk - 07-10-2012


quote:

---

Originally posted by tagnrocky

Awwwww, I'm sorry to hear that there wasn't a bigger turnout. Maybe next year I can make it. Looks like fun though. Was it hot?



---


Some but not too bad. It felt great back in the forest. The only problem was water for the horses. As usual, the only place to water your horses was at the Hickory Ridge horse camp's stock tank.


---
- appygirl - 07-12-2012

Well, hopefully, I will be able to join in the fun next year, as I am soon to be a horse owner again. Earlier, there was a prospect to buy an appy foal; however, the little guy sustained an injury that would make trail riding impossible. So, I went back to looking.

I am happy to say that while I did not find an appy to live up to my screen name, I have found a wonderful and beautiful 11-year-old Arabian gelding. We are busily preparing his new home with fencing and run-in, and should be bringing him home in a short while. Pics will soon follow.

I told his current owner, who loves him tremendously, about DE and if she needed any references for how I am with horses, she could surely find some here. So, if she does happen to post, and you feel obliged to share anything about me, I would greatly appreciate it.

So I will say here and now.....2013 DE Camping and Trail Ride HERE I COME!!!!!!



---
- madison - 07-13-2012

Appy so sorry about the foal having the injury. He was a beauty. Sometimes things work out for the best, not for the foal but at least you will be getting a great horse to ride now. I'm new here just recently became a horse owner, my dh and the kids had horses. We used to breed quarter horses but I never rode for over 30 years and finally bit the bullet and took lessons and found an awesome mare. I plan to have a post on our adventures she came home today and hope to join you guys in 2013 from Pa.


---
- tuffy2712 - 07-26-2012

Like Appygirl, I will make it to the DE Ride of '13


---
- fracturedbones - 09-02-2012

Just catching up on the haps on DE...wow, Butterbrickle is a cutie! Love the mule train pics...pretty cool wagons.
Thanks for posting RH!


---