Sara
Beginning Rider

Russia
90 Posts
Posted - 01/06/2010 : 7:56:19 PM
---
Hi everyone!

Looks like my nephew got interested in riding a horse!


(Belka is terrified :)))

But my 15" saddle is definitely too big for him :) But I can't even imagine what saddle size he might need? He is 6 years old and weights 60 pound (not sure about his height).

Also thinking about getting him kids' stirrups - but not sure if this is a really good alternative to a small saddle? Looks like they hang way too close to the horn? And then, the seat would be too big anyway?

How do you ride your kids? :)
---
Edited by - Sara on 01/08/2010 4:17:56 PM
Hook
Trail Boss (Moderator)




Canada
6117 Posts
Posted - 01/06/2010 : 9:40:30 PM
---
I love the happy grin.

Most small kids would ride in a 12 inch saddle. Our 9 year old Step Granddaughter fits quite well in Mrs Hook's 14 inch Dakota.

Here she is with the Dakota on Flyer.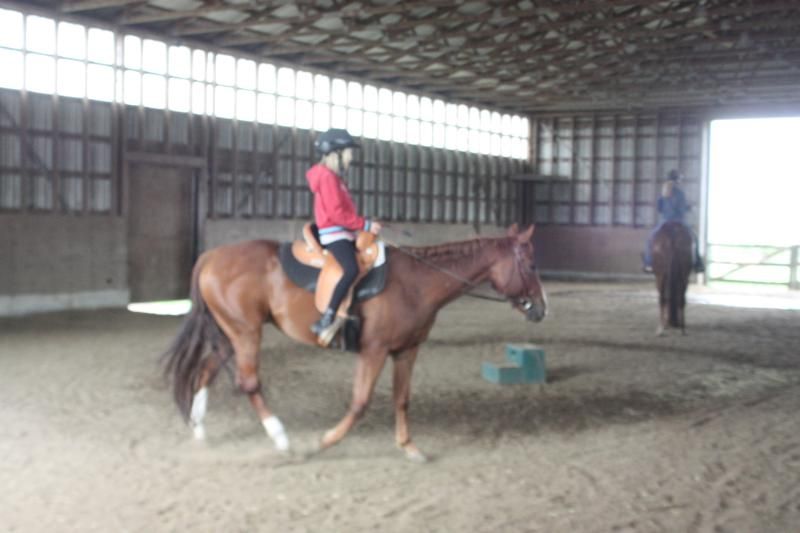 Check out the youth saddles here.

http://store.yahoo.com/thesaddleshop/ponysaddles.html

---
Hook(ed)......on Horses

"The best things in life are nearest: Breath in your nostrils, light in your eyes, flowers at your feet, duties at your hand, the path of right just before you. Then do not grasp at the stars, but do life's plain, common work as it comes, certain that daily duties and daily bread are the sweetest things in life. " Author: Robert Louis Stevenson

---
Edited by - Hook on 01/07/2010 06:14:16 AM