The Eagle Looked at Me
by Ginger Karns
The river flowed quietly beside where I rode the woodland trail.
Air caressed me with its gentle touch.
Sun made diamond twinkles on the water.
Something rode the breeze to almost kiss the river.
An eagle.
An American bald eagle.
A sight more precious than gold.
And only the second time I'd ever seen one in this place.
I guided my mare to the water's edge.
The eagle landed in the tree not more than fifteen feet above me.
Our eyes met.
I dismounted for a better view.
The eagle's gaze followed my every move.
Again and again I tried to see this rare sight more clearly through the foliage.
The eagle stayed perched and watched.
Time slipped by.
How much?
Maybe ten minutes? Fifteen?
And then eagle wings drifted this great bird close to the water only to arc around and away.
My lungs expelled my awe.
The eagle's magic lingered.
And I tried not to move lest I lose that incredible moment of when... the eagle looked at me.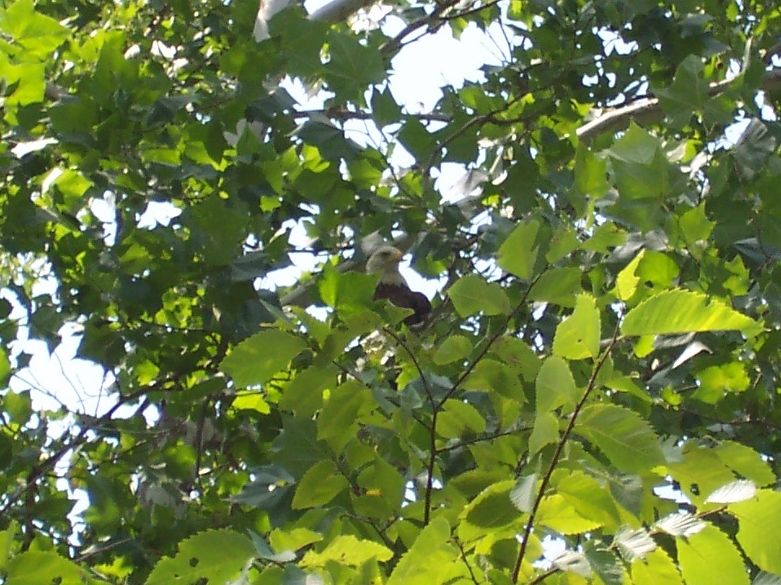 Not the greatest photo I know, but it was the best I could do.
That was only part of my magical ride I had last Monday. Once I left the river, it wasn't more than 30 or 40 minutes later that I watched a red tailed hawk land in a tree just up the trail from me.
This was deeper in the forest and away from the river. I tried to catch him on video but failed. Terra and I kept walking, and the hawk kept flying away only to perch farther down along the trail. This went on for quite a while before he finally flew off and into the forest.
To see an eagle along the Salamonie River this time of year is rare enough, but to be able to follow a hawk through the forest on the very same day (and so close together) is practically unbelievable. I'll treasure this moment forever.